Author Override: Anne Tenino

From August 27
th
through the 31
st
, I'll be visiting blogs and posting tidbits about my new release,
Love, Hypothetically
—the second volume in the Theta Alpha Gamma series, begun with
Frat Boy and Toppy
.
To see a schedule of the tour, check out my
website
.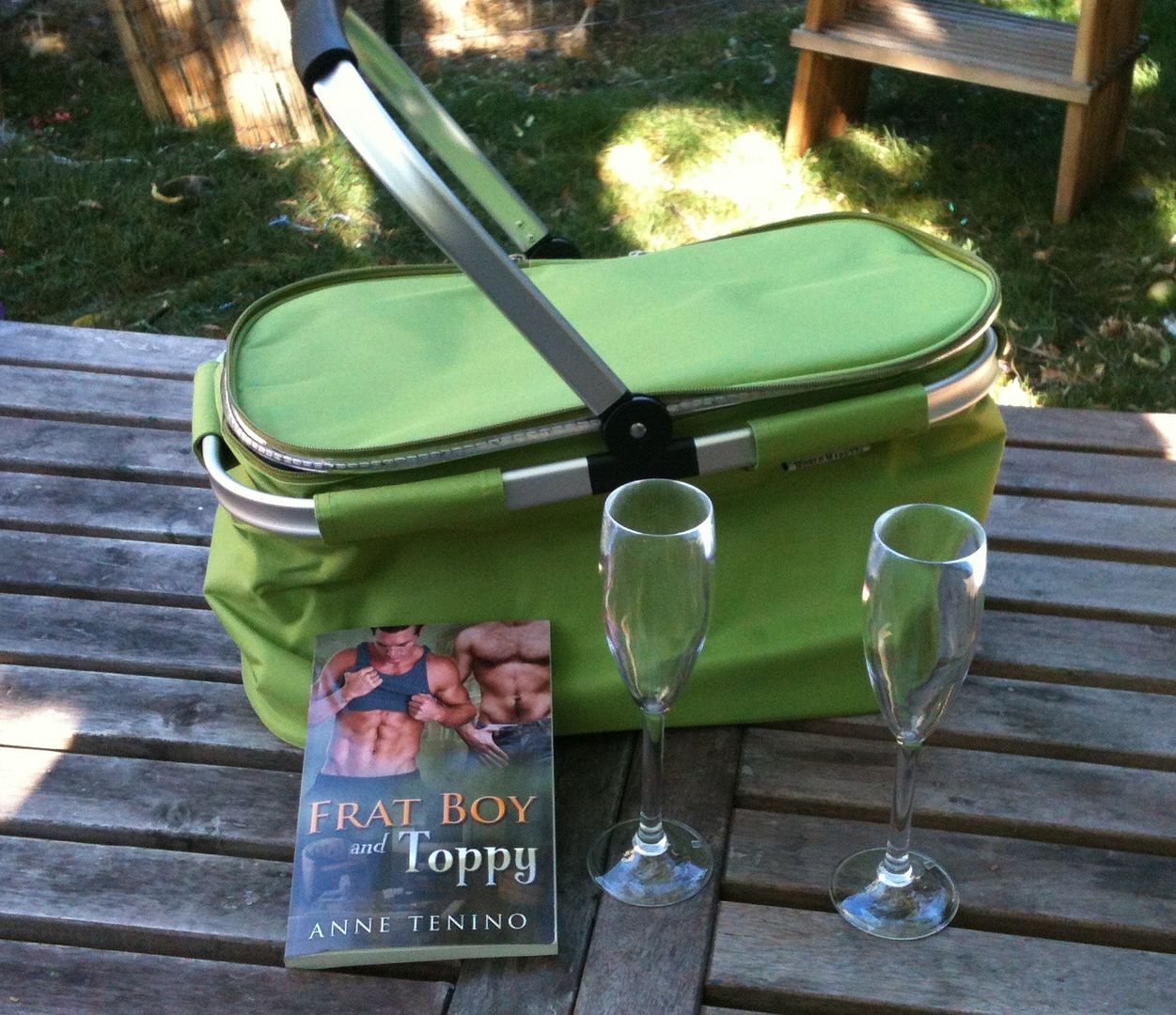 Over the course of the tour, I'll be asking readers of Love, Hypotheticallyquestions about the new book, and whoever emailsall the correct answers to me at anneATanneteninoDOTcom will be entered into a drawing for the Blog Tour Prize—the PICNIC PRIZE PACK: a picnic tote, two "unbreakable" champagne glasses, and an autographed copy of Frat Boy and Toppy. This unusual prize honors Trevor from Love, Hypothetically, who makes a picnic lunch for Paul in an effort to woo him. Similarly, I am wooing you, my lurvely readers.
All righty, I suppose it's time to begin the party, hmm? Let the Love, Hypothetically Blog Tour Spectacular! *confetti* begin!
* * * *
I've spent a lot of time on this blog tour discussing the ins and outs of Love, Hypothetically, Paul's character, Trevor's character, some other characters' character, etc. I thought I would take a mid-tour break (since this is the middle post of the tour) and do something simple—give you an exclusive excerpt. Yes, that's right, one you can't find anywhere else.
First, some set up: I had a great time writing Paul's character in Frat Boy and Toppy. How can you not enjoy a character who makes a huge ass of himself the way Paul does? In this excerpt from Chapter Seven of FB&T, he's making it clear how he feels about frat boys and jocks:
"He's a frat boy jock!" Paul gaped at Sebastian. Paul was an intellectual snob, and jocks had no place in his world except as objects of derision. For the typical reason, of course: the high school athletic teams' natural prey was the weak, intelligent queer boy.

"Makes him that much better to look at. Did you check out those muscles? Brad has a nice set of arms on him. And, man, you should see the view from behind." For just a second, Paul might have looked interested, but he squelched it with a contemptuously curled lip. Really, Sebastian was enjoying messing with Paul too much. It wasn't nice.

Not that he was going to stop.

"He could be playing you!"

"What, like flashing his well-formed pecs at me to get what he wants? Showing me his corded neck so I'll overlook his plagiarized paper?" Sebastian laughed. "He's straight!" He was pretty sure. "Even if it occurred to him to do it, he'd never be able to make himself." He grinned over at Paul, enjoying his flustered outrage openly.

"He could be trying to inveigle you!" Paul was so worked up he stood and leaned across his desk, planting his hands on the surface. "Get you obsessed with him, then get you to change his grade."
You can clearly see Paul has some kind of issue. Many, many people suggested to me after this first Theta Alpha Gamma book came out that I explain exactly why Paul has (as Toby terms it) "…a pure and unreasoning" hatred of jocks. In Love, Hypothetically, I not only explained the reason for his feelings, but in Chapter Two I took readers on a flashback journey (just a little one, I promise) to experience what brought Paul to that hatred. This is the beginning of Chapter Two, also known as the exclusive excerpt:
Paul devoted many an hour his final year of high school to devising ways to get his dick into Trevor's mouth. Reciprocal blowjobs were a dead end. Invariably, after blowing Trevor, Paul would be so close to the edge he'd accept a handjob gratefully. He'd be too far gone to argue or plead for Trevor to suck him instead.

It was when he lay in bed at night, hard and aching with nothing but his hand for company, that Paul spent real energy dreaming up ways to get what he wanted: Trevor on his knees in front of him with a mouthful of penis.

One day near the end of their senior year—on the downhill side of baseball season, as Trevor tended to mark these things—Paul sat in his car, parked in the school lot, in possession of a (hopefully) foolproof plan. Due to his superior knowledge of Trevor's fantasies, schedule, and baseball in general (not that he'd wanted to know so much about baseball, but he spent too much time with the star shortstop not to soak it in through osmosis, or possibly semen), Paul knew the planets had finally aligned, offering him an opportunity to coax a blowjob from his boyfriend.

Yes, "boyfriend." Whether Trevor recognized it or not, they were a couple. One didn't hang out and just talk or cuddle (okay, so it had only happened twice, but it counted, dammitall) with a guy who was merely one's fuck buddy. It didn't matter that no one else knew they were a couple, or that everyone thought Trevor was dating that cheerleader. Paul knew what was going on. The cheerleader was a beard and he was the real deal. Someday Trevor would figure it out, too. Paul just needed patience and unwavering certainty.

Trevor sucking his cock would go a long way toward encouraging him not to waver. This evening's scheme would bolster his faith, Paul was positive.

Possibly "scheme" wasn't the best word. "Tactics" had a more positive connotation.

At any rate, there was Stu Hodges, the team catcher, leaving the school now—he was the last guy on the team to leave, other than Trevor. Paul waited until Stu had walked around the corner of the building before climbing out of his car. He didn't want to be nervous, but he was. His heart fluttered momentarily, but he told it to behave. The knot in his gut didn't respond to the same admonishment, so he ignored it and walked quickly to the side door of the school gymnasium.
I'm sorry to be so cruel, but unfortunately, if you want to know what happens next, you're probably going to need to read the book.
Happy Reading!
* * * *
Paul's been called many things—graduate student, humanities tutor, jock-hater, even broke—but "forgiving" isn't one of them. When the new women's softball coach at Calapooya College specifically requests Paul to tutor his athletes, Paul's forced to put aside his strict "no athletes" policy for the sake of his paycheck.

Enter Trevor Gardiner, former Major League Baseball player and Paul's high school boyfriend. Yeah, that one—the guy who sacrificed Paul for the safety of his closet and his future career. But Trevor's come out and retired from baseball, and now he's looking for forgiveness and a second chance.

There's no earthly reason Paul should give him one, but he keeps letting the man state his case. And touch him. And take him sailing. The waters are far from smooth, though, and Paul says awful things to Trevor he isn't sure he means. Now Paul has to decide: apologize and forgive Trevor for everything, or chalk it up as revenge and move on.
* * * *
About Anne—
Raised on a steady media diet of Monty Python, classical music and the visual arts, Anne Tenino rocked the mental health world when she was the first patient diagnosed with Compulsive Romantic Disorder. Since that day, Anne has taken on conquering the M/M world through therapeutic writing. Finding out who those guys having sex in her head are and what to do with them has been extremely liberating.
Anne's husband finds it liberating as well, although in a somewhat different way. Her two daughters are mildly confused by Anne's need to twist Ken dolls into odd positions. They were raised to be open-minded children, however, and other than occasionally stealing Ken1's strap-on, they let Mom do her thing without interference.
When not writing, Anne lies on the couch, eats bonbons and shirks housework.
Latest posts by Under the Covers Book Blog
(see all)