Author Override: Amanda Bonilla
Author Override is the place where authors take the reins and take you on a journey into their world. Some may allow you into their private writing dens. Others may take you along with them on research trips or interviews. Whatever the case may be, sit back, relax and enjoy the ride because here you'll get an in-depth look into an author's musings.


Urban Fantasy in a Small Town
Thanks so much to Under the Covers for having me as a guest on the blog today! You ladies are awesome!
I often wonder if UF shouldn't be referred to as "contemporary fantasy" when we take it out of the urban setting. UF has become a blanket genre that encompasses stories with fantasy, romance, and paranormal elements. Assigning even more subgenres might just muck everything up and cause confusion so I'm totally okay with calling VENGEANCE BORNE a UF even though it takes place in a town with less than 4,000 residents.
It's true that the McCall in VB is my own small town of McCall, Idaho. And where I did take some creative liberties with my fictional setting, I tried to stay true to the location and the specifics of the town. And whereas it would seem like it might be tough to justify a ton of supernatural activity in a tiny mountain town miles from anywhere, the real McCall has its own real-life stories of oddities that makes it a perfect backdrop for an urban fantasy novel and here are just a few examples:
Sharlie
McCall has its very own lake monster. The town sits on Payette Lake, a 5,330 acre glacial lake that's almost 500 feet deep in some parts. For decades, residents have claimed to have spotted unexplained waves in calm waters and a creature breaching the surface in an area known as "The Narrows" which is also the deepest part of the lake. When I was a kid, I swore I saw Sharlie taking a swim off the beach where our cabin is. I'm sticking by it, too. Something made those waves!
Will o' the Wisp
We have our share of ghost stories around here. In fact, in Vengeance Borne, there's a scene where Jax and Micah encounter a will o' the wisp, a glowing ball of light that's floating through the forest. I based that scene on a story my great-grandma told about a will o' wisp that floated through her kitchen one night. She was very superstitious and had lots of ghost stories, including one about a floating water ladle that she saw near her well.
Demons
When I asked locals if they had any stories to share, someone mentioned that in the 90's the newspaper ran a story about a girl who claimed that she woke up in the middle of the night to see a demon standing at the foot of her bed. Unfortunately, the person who told me the story said the newspaper archives didn't go back far enough to find the actual story. I was totally bummed out I couldn't find more. I could write an entire book about that article! LOL
Miracle Heights
Miracle Heights is an old abandoned hotel not far from my family's cabin. It sits just off of Payette Lake and has been sitting for decades with a huge For Sale sign at the end of the road.  According to rumors, the hotel was previously a brothel in the early 1900s and was later converted to a hotel. The building was apparently abandoned abruptly; people say there are still linens on the beds and old clothes in rotting suitcases. Locals say that the hotel is haunted and my own crazy daughter has been inside. She says that the place has a haunted vibe and makes you instantly feel like running away. One of her friends swears she heard footsteps and floorboards creaking. The fact that the building is overgrown with trees and bushes just lends to its creepy façade. I wanted to share a picture, but even the real estate company that's selling it doesn't have pics on their website. And there's no way I'm going over there to take pics myself!
Do you have any local paranormal or ghost stories
from where you live?
Fated to Hunt…

As the local hunter, and a ward of the Sentry, a secret organization dedicated to eradicating the forces of evil, Jacquelyn has been protecting the small town of McCall, Idaho for the past five years. The hours are horrible, the pay is nonexistent, she has to work with her jealous ex-boyfriend – and forget about quitting. She's in for life.

Destined to See…

When a rugged drifter comes through town, Jacquelyn immediately knows what he is – an Empath who can read emotions and sense what others are thinking – even though it's clear the handsome stranger has no idea what, or how powerful, he is…

A Town in Peril…

When people in McCall start turning up dead, viciously ripped to shreds as if by a wild animal, Jacquelyn knows better. Furies are loose in Idaho and hell-bent on exacting revenge. But against whom? And for what purpose? Jacquelyn has until the full moon to stop the Furies' killing spree and save the people of McCall, figure out how to work with her ex – oh, and there's a handsome stranger in town who's in desperate need of some schooling…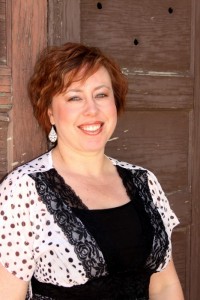 About the Author:
Amanda Bonilla lives in rural Idaho with her husband and two kids. She's a part-time pet wrangler, a full-time sun worshipper, and only goes out into the cold when coerced. She loves the outdoors, black clothes, pink appliances and thinks junk food should be a recognized food group. In the summer, she can be found sitting by the lake, enjoying the view from her dock.

Amanda is graciously giving away a digital copy of VENGEANCE BORNE!
To enter, please answer her question above!
Latest posts by Under the Covers Book Blog
(see all)