Author Override: Alexandra Ivy
 Author Override is the place where authors take the reins and take you on a journey into their world. Some may allow you into their private writing dens. Others may take you along with them on research trips or interviews. Whatever the case may be, sit back, relax and enjoy the ride because here you'll get an in-depth look into an author's musings.


What happened to genres?
Long before I became a published writer I was an avid reader. And like many avid readers my tastes were eclectic. One summer I remember reading Nancy Drew, the Hobbit, Victoria Holt and Moby Dick. It didn't occur to me that the books were a variety of genres. I just knew that one week I was in the mood for a mystery and the next I wanted something with adventure.
Things changed when I decided to make my living as a writer. I thought (rightly or wrongly) that there were rules that had to be followed. A reader of traditional regencies had different expectations than those who read historicals. Gothics, for goodness sakes, had to have atmosphere. High fantasy fans didn't want sci fi elements slipping in, and westerns didn't have aliens.
I suppose that's why I was so fascinated when I picked up my first paranormal romance. Suddenly there was a mixture of romance and horror and adventure. I didn't have to be in the mood for one thing or another. And so when I sat down to write my first paranormal I deliberately threw the rules out of the window. I could mix romance and magic and a kick-ass heroine with a hint of mystery and a whole plethora of sexy monsters. I could world-build to my heart's content and never worry about those pesky "expectations".
What a wonderful thing to be naïve. Even though I was already a published author I didn't consider the fact that sales department had to be able to market the book to wholesalers, and that bookstores had to shelve the book so customers could browse for it among similar books, and that I would have to be able to give out a snappy explanation to encourage wary readers to give it a try. And, of course, once the book hit the shelves, it took on a life of its own.
Savvy fans of the newest trends were already sorting their favorite books into separate niches. There were paranormals, romantic fantasies, urban fantasies, steampunk, elf punk…the list was endless. My own books tended to end up in the paranormal section or the romance section depending on the bookstore. But just as I was accepting that my story wasn't a mishmash of genres, but a genre in itself, I started getting emails from readers wondering if my parnamoral was dark or light.
Hmmm. That was a toughie. I understood the question…sort of. There is absolutely a different vibe to J.R. Ward's stories compared to Kerrelyn Sparks. And then there is the wonderful, whacky world of Maryjanice Davidson that has little in common with Christine Feehan. But for many of us, the variations are more subtle. I do have a large dose of humor in my books (or at least passes for humor in my opinion), as well as an emphasis on the romance, but there's also some fighting, a splash of blood and a dollop of gore. So where did that leave me?
Light or dark?
It's a question that I've decided to leave to my readers (and the poor sales department at my publishing house)! And just as importantly I've accepted that while I might have changed from one genre to another, the rules today are out the window. Because of those daring authors willing to break the mold I can write zombies fighting the battle at the OK Corral or a regency with a werewolf. Perhaps there are purist who disdain the crossover between genres and that's all right. There are a number of fantastic authors who continue to write the more traditional books. Many of whom I consume as fast as they can put the books out. But for those who have been waiting for the odd, the unexpected, and unusual, the recent trend has offered a welcomed variety and has perhaps enticed people who haven't picked up a book since school to give reading another try.
So, whether or not the boundaries between genres might be blurring, or whether they're simply being realigned, there's no denying the opportunity for writers and readers to discover a whole new world! And that can't be bad.

Ms. Ivy has an awesome giveaway for US readers.  Yes, US only this time.  She's giving away a copy of her latest release Bound by Darkness and a copy of her anthology Real Werewives of Vampire County.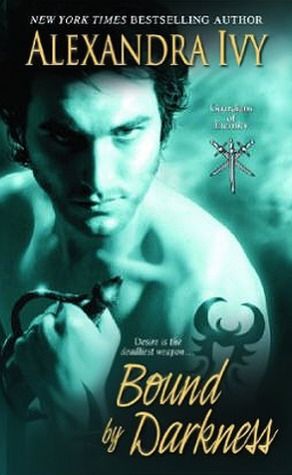 The Sylvermysts have a reputation as sinister cousins to the fey, and none are more mysterious than Ariyal and his tribe. To save his people from banishment, he faces a new challenge: Jaelyn, an elite vampire warrior sent to capture him. By rights, he should kill her on sight. Yet he cannot bring himself to hurt her—or to resist her…

Jaelyn is stunningly beautiful, utterly lethal—and always alone. Until Ariyal. From their first encounter, she knows that what's between them is more dangerous than simple lust. And as they unite to thwart a terrifying prophecy that will mean the end of his clan and of the world they know, she will risk everything to fulfill her destiny by his side…

 Drama. Scandal. Secrets. And a whole lot of supernatural goings-on.
 I'm Pureblood Were, And Proud Of It. . .

"Where Darkness Lives" by Alexandra Ivy
No one's more surprised than Sophia when she's struck by an unfamiliar maternal urge to move near her daughters. But instead of being greeted by a welcome committee, she's targeted by kidnappers. . .and saddled with a gorgeous bodyguard on a mission to protect—and seduce. . .

I'm A Tomboy At Heart, But I Want A Man Who Makes Me Feel Like A Real Woman. . .
"Murder on Mysteria Lane" by Angie Fox
When a werewolf trophy wife is found dead in Vampire County, Heather McPhee goes undercover to investigate. Heather's never been a mascara-and-manicures sort of girl, but she's willing to learn. Especially with sexy vampire detective Lucien Mead posing as her husband. . .

Who's Afraid Of The Big, Bad Werewolves? Not Me, That's For Sure. . .
"What's Yours is Mine" by Jess Haines
Still Waters is like many other exclusive gated communities—except that it's home to one of the largest werewolf packs in the state. But Tiffany Winters isn't frightened of her big, bad new neighbors. In fact, she intends to take her place among the pack. . .

This Is A Town Full Of Secrets. And I Intend To Uncover All Of Them. . .
"Werewolves in Chic Clothing" by Tami Dane
Ever since Christine Price moved in with her fiancé, Jonathan, and his twelve year-old son, she's worked hard to fit in with a cadre of local women whose lives seem picture-perfect. Except no one in Jon's upscale neighborhood is quite who they appear to be. Least of all Jon. . .


To enter, all you have to do is:

1. Be a follower of this blog
2. Fill out the form below.

This giveaway will run until December 15, 2011, it's open only to US residents.  Winner will be picked via random.org
Latest posts by Under the Covers Book Blog
(see all)