ARC Review: Angels' Flight by Nalini Singh

We are all such big fans of Nalini Singh here at Under the Covers so for this review, we'll be doing something different. Each novella will be reviewed by one of us. I hope you enjoy and if you haven't read Nalini Singh before, then what are you waiting for?
Angels' Pawn 

(more like 3.5 feathers)
Reviewed by Angela
This short story is a prequel to the Guild Hunter Series. This is not my first book of the series that I have read. It is actually the third. I have read Angel's Blood and Angel's Kiss and enjoyed them very much. Against all my beliefs to read in order, I, for some reason failed to start with this one. *shrugs*
Ashwini a hunter of the guild who is hired to rescue/find a missing vampire, one from a well-known family. As a hunter, Ashwini is human with special powers that help her to do her job well. In this special assignment, she seeks out help from a vampire named Janvier whom she had hunted before. I found that odd in the beginning but as you read on, you will find out that it is probably more a personal preference.
Janvier is a hot, confident, two hundred forty five year old, over six feet tall, vampire with a Cajun accent. Sexy IMO. This guy has lived a long time and just about done with games but continue to play them in the account of love. It is obvious, his actions, his words, the way he looks at her.
These two obviously have a past that goes beyond hunter/pray relationship. Though there was not a strong romance aspect in this book, you feel the tension as they work together. Unfortunately, we do not see a HEA for this couple but it's a cute little teaser of what is to come of this world.
I do not believe this novella compares to the full length books, not by a long shot. Although I loved both Ashwini and Janvier, I felt the story was too hard to follow if I was reading it for the first time. I felt like I was expected to know the plot from the start. The action was good though and the side characters were very interesting. Though I do not recommend reading this as a prequel, I recommend reading this after book 1 (Angel's Blood) when you have a better understanding of series.
Angels' Judgment
Reviewed by Annie
I have absolutely fallen in love with the world that Singh has built where vampires, angels, and humans co-exist. Though it's beautiful, it's also dangerous as hell.
Angel's Judgement is the story of Sara Haziz, another hunter-born Guild Hunter who later becomes the Guild Director for America. But before she takes her rightful spot behind the Director desk, Sara is set on a mission to end a hunter who is on a vampire killing spree. But this time, she isn't alone.
A sexy – and I mean really, really sexy – man named Deacon is there to help her. Sara is suspicious to find this towering and dangerously seductive man with her. But when she calls in to verify his Guild Hunter status, Simon the former Guild Director says that Deacon is there for a mission and to offer her protection from any Archangel threats. Because she is the most likely candidate for the Guild Director position, the Cadre of Archangels want to make sure she is capable enough to withstand their wrath. And also to prove that they are powerful and above all else.
The action is gritty and I loved every moment of it. There is more investigating in this novella than in Angel's Pawn, but that's because Sara uses knowledge to her advantage. Her mind is her weapon, along with her crossbow made by the hands of her lover.
Speaking of her lover, Deacon is so freaking amazing! I love his personality. He does his job well, but he can also be light and funny. I love the control he is able to manage. But when he loses control, as Sara said, he loses control.
Again, Singh writes what I would call a perfect novella. She has included action, danger, blood and romance. But I would love to read more about the love scenes between Deacon and Sara. What? I'm human! Sue me.
Favourite Quote:
Sara smiled, knowing her face was a blotchy mess. "Can you see him in a tux?" Her stomach tightened at the idea.
"Let me get the visual. Okay, I have it." Elena sighed. "Oh, baby, I could lick him up in a tux."
"Hey. Mine." It was a growl.
Ellie grinned. "I have a pulse. He's hot."
Angel's Wolf
 (more like 4.5 feathers)
 Reviewed  by Francesca
Noel, a vampire who used to work at the Tower for Raphael, and who was one of the victims in a previous Guild Hunter book, is sent to New Orleans to serve Nimra. At first he thought he was being cast out because of his weakness. He is still dealing with the emotional aftermath of his past, he feels almost dead inside. But then he realizes Raphael sent him here to help and protect Nimra. Someone close to her wants her dead. It's his job to make sure they don't succeed and to figure out who is responsible. But Nimra somehow manages to wake him from the state he's been in.
The story, as always, is amazing. Nalini Singh can weave an intricate web perfectly. Even for a short story there's so much going on it felt like a complete story. All the characters were pretty well developed, the relationships between all of them was very real, and the chemistry between Noel and Nimra was amazing. Excellent story!
Angels' Dance
(more like 4.5 feathers)

 Reviewed by Suzanne
I want to live in a Nalini Singh world. It has gorgeous men in abundance, if your tastes run to dark and dangerous you have Dmitri, if you love golden eyed charmers, there is Illium and now if you have a taste for red haired barbarians there is the rugged Galen. Ms Singh really knows how to spoil a girl.
This story is set 400 years before the events in the Guild Hunter series and when Galen first joined Raphael and meets for the first time Jessamy, the teacher, the historian and tragically of the crippled wing. But Galen also sees her as Jessamy the woman, something no one else has.
What a story, it was so beautiful, Nalini Singh has a poetic way with words that can turn even the simplest things into something spectacular. And Jess and Galen's story was spectacular, watching them both risking their hearts and overcome the fears that life has taught them so they can be with one another was so romantic.
It was also a treat to see Raphael and a few of the guys from the Seven; Dmitri, Jason, Aodhan and Illium, we get to see the origin of his Bluebell nickname! Although there wasn't much a small storyline that ran aside the romance it was rather small and this book basically focuses on Galen and Jess, and was better for it. It was a fabulous read and as always, Ms Singh has left me wanting more.
*ARC provided by publisher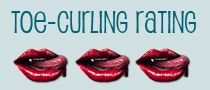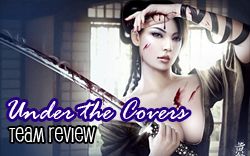 Latest posts by Under the Covers Book Blog
(see all)