ARC Review: Accidental Sire by Molly Harper
I received this book for free from Publisher in exchange for an honest review. This does not affect my opinion of the book or the content of my review.

This post contains affiliate links you can use to purchase the book. If you buy the book using that link, I will receive a small commission from the sale.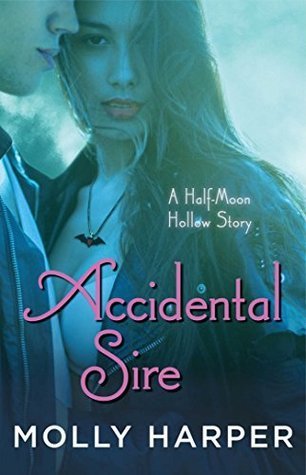 The Accidental Sire

Book Info
Released:
July 25th 2017
"It was kind of okay"
~ Under the Covers
*scratches head*
*stares blankly at screen*
*realises I have 1000 things on to do list*
*does 999 things on to do list*
*stares at screen*
I think I'm ready now. The above was my process when trying to write this review, I would stare at my screen for a while…realise that there was some small domestic task I should do…would go do that and come back to my blank computer screen and stare at the screen again. It took me while to finally get anything coherent out. More than it was "It was kind of okay". But, that's the jist of this review. It was kind of okay. However, it was also kind of boring.
For me Accidental Sire was mostly boring with a few moments of hilarity thrown in which added to the star rating. The concept of being turned into a vampire because of an accident involving extreme Frisbee and a 45 pound weight amused me, but after that it just didn't capture my attention. I feel like Harper is really stretching this series thin, there doesn't seem to be much material left for her to play with and every time I read a new book it's slightly more mundane and I lose more interest.
Summing up, this book was kind of okay, but also kind of not. There was nothing inherently wrong with it, apart from the fact that there didn't seem to be much going on with it at all.
What did you think of our review?
Let us know your thoughts in the comment box below!
 ♡ Don't want to miss any of our posts? ♡ 
Follow Under the Covers: Facebook | Twitter | Tsu | GoodReads | Email