Review: Kushiel's Scion by Jacqueline Carey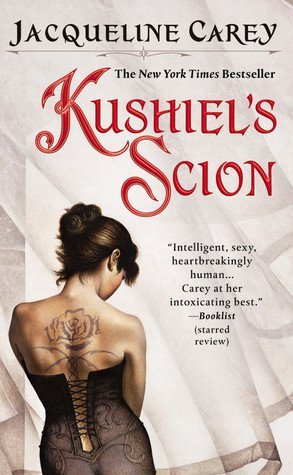 Kushiel's Scion

Book Info
Released:
May 1st 2007
Series:
Imriel's Trilogy #1
Length:
27 hrs and 38 mins
Pages:
944
Recommended Read!
"I truly find the imagination and writing talent of this author shining through in this series…"
~ Under the Covers
As you may already be aware, this series has captured my heart and not let go for the past few years.  I am making SLOW progress because, quite frankly, these books are big and they pack so much in them that it's usually a heartbreaking read and I need to take breaks in between.  KUSHIEL'S SCION marks the beginning of a new trilogy in this universe and I didn't pay much attention to blurbs and things like that.  What I had originally looked at was the appropriate order in which to read all these books.  Good thing I did!  These series are interconnected and should be read in order.  This book, even though it's book one in a new trilogy, it's book 4 in the overall Legacy of this world.  And should be read in that such order.  I'll put a reference at the end of my review.  Also, fair warning that this review has a minor spoiler if you haven't read the first trilogy, so if you don't want to know then skip ahead, I can't leave it out of the review.
You've been warned!!!!!  OK.
………
As the name of this trilogy suggests, this book marks the beginning of our journey following Imriel.  He's Melisande's born son but raised by Phedre and Joscelin.  I cannot tell you how excited I am to see him again, and to find out more about his new journey.  I loved his character in the last book and I can't wait to see what's in store for him.  He's already been through so much that my heart had already broken for him.  In a way, I was glad to see him face the normal struggles of a young man his age now.  Yes, he's a bit immature.  At times a little annoying and can be counted on to make some mistakes.   But Ms. Carey has put him through the ringer of life experiences in this story.  Love, loss and everything in between.
The narration from his point of view is not the same as Phedre's in the previous trilogy.  As much as this book has the same beautifully crafted world and lyrical prose that swept me away to a different time and place, Imriel just doesn't hold a candle to the special character that Phedre is.  As much as I grew to care for him.  Nonetheless, it continues to bring plenty of political intrigue, battles, and impossibilities to overcome.  And through all of that, Imriel has to grow.  Has to find himself.  And I feel like this is just that first installment in his large quest for personal growth until he can hopefully be the man he strives to be.  And on that note, the admiration and love he has for his adoptive parents warmed my heart.  Just as much as they care for him.  It brought a sense of calm and normalcy to this story that only kept getting worst for poor Imriel.
There is so much to deal with and process about what happened here, but what stays with me the most are those emotional nuances about Imriel's character that we get to see.  His rebellious side, tired of being under someone's protection and striking out on his own.  The realization that his actions actually do have consequences, and seeing him learn those lessons the hard way.  His love and understanding for Phedre and Joscelin changing and growing throughout the story as he can see them through different eyes.  His troubled feelings about his mother, his past tortures as well as his needs and desires.  Even his morals.  Those are the things that had me turning the pages more so than any big battle he faced.
KUSHIEL'S SCION brings a change of pace to the series and at least in this book it wasn't quite as dark and deep as the previous series got.  But I truly find the imagination and writing talent of this author shining through in this series and I can't wait to continue the journey.
Favorite Quotes:
"Love, child! What else? You will find it and lose it, again and again. And with each finding and each loss, you will become more than before. What you make of it is yours to choose."
"I lie awake in my bed, clinging to the brightness I have known, fighting back the tide of darkness, the memories of blood and branding and horror, and the legacy of cruelty that runs in my own veins, shaping my own secret vow and wielding it like a brand against the darkness, whispering it to myself, over and over.
I will try to be good."
What did you think of our review?
Let us know your thoughts in the comment box below!
 ♡ Don't want to miss any of our posts? ♡ 
Follow Under the Covers: Facebook | Twitter | Tsu | GoodReads | Email 
Latest posts by Francesca
(see all)