Interview and Giveaway with Julie James & Kyle Rhodes!
Maidens, we are pleased to tell you that we have one of my favorite authors here with a special guest! I must do my job as a book pusher and recommend  these books to romance readers because Julie really does a great job with her contemporary reads. Funny, light and steamy, she brings it all in spades. For more information on Julie James and her great books, please check out her website.


Hi Julie! Thanks for coming back to Under the Covers! We are thrilled to have you back! Since your last time here, you've been busy typing away at your computer and have written ABOUT THAT NIGHT, book 4 in the FBI/US Attorney series! Can you tell us about your experience while writing Kyle's book. Was it easier to write because he was an established character in the previous book? More difficult?
Thanks for having me again!
Regarding ABOUT THAT NIGHT . . . oh my goodness, this was the toughest time I've had writing a book. Not necessarily because of the book itself, but because I had a baby (my daughter) right when I normally would've begun the book. And shockingly, there isn't a lot of time for writing when you have a newborn at home! I took a few months off for maternity leave, but my daughter was not a good sleeper, and I was pretty exhausted for awhile. I'd written about 1/3 of the book before I realized that what I was writing was just . . . not good. So I tossed out everything but the first two chapters (which are still two of my favorite chapters in the book) and started over. Because of that, I got behind on my deadline—something I'd never done before—and needed an extension, which is not my favorite way to write. I do much better with a slow, steady pace than writing under the gun.
In the end, however, I think it all came together and I'm really, really proud of this book. Plus I think it made me more confident as a writer—the idea that, even if something isn't right at first, if I just keep working at it, and working some more, I'll eventually get there.
Who can we expect to see in the next book of this series? Have you decided on who the main characters will be?
Well, I haven't said too much about the next book yet. But as you noted, if people visit the FBI/U.S. Attorney page at my website, http://juliejames.com/books/series/, they'll see that my next book is going to be part of the series.
I'll give you one big hint, though: the hero is someone who's in About That Night. : )
Do you know how many books are going to be in the FBI/US attorney series yet?
Truthfully, I have no clue. I generally plan about a book ahead. I do have an idea who the hero will be two books after About That Night, and some ideas for his book. But I'll say this: I like to write what inspires me, and my editor is very supportive of that. If, after finishing a book, the idea that inspires me next is one that would be set in the Chicago FBI/US Attorney world, I'll write that. If not, I'll write something else. I could also see a situation where I would take a break and write a stand-alone book, and then come back to the FBI/US Attorney series.
I have loved all the heroes you've written! What is one characteristic you think all heroes should have?
Hmm . . . tough question, because I think there are a lot of characteristics all heroes should have. I'll tell you one characteristic that all my heroes have in common: they're all attracted to women who challenge them.
If you had the power to choose your favorite authors to speak alongside you at a conference panel, which authors would you pick and why?
Ha! Well, since you said they can be dead, I'd love to do a panel with Jane Austen. (My favorite book is Pride and Prejudice.) We could call it, "Those Darn First 100 Pages: What To Do When Your Stubborn Hero And Heroine 'Think' They Don't Like Each Other."
For Kyle:
Hi, Kyle! Thanks for coming by with Julie today and answering some questions for us! Since you are known to some as the "Twitter Terrorist", how would you describe your book in less than 140 characters?
Boy meets girl. Boy loses girl. 9 yrs later, boy meets girl again after being released from prison. Girl is as sassy as ever. Hijinks ensue.
You must give us the dirty on the author who writes your books, Julie James. What is one thing readers would be surprised to hear about her?
She spends way too much time live-tweeting episodes of The Bachelor.
Rylann Pierce matches you perfectly in wit. If you and Rylann were pitted together in a cage match, who would win?
One thing I've learned from being in a relationship with a lawyer: don't ever try to out-argue a lawyer. [grins naughtily] Although I like this scenario where Rylann and I are locked in a cage together . . .
[Julie jumps in here] Sounds kind of like that scene with Kate and Sawyer on Lost. [cocks head at Kyle] Hey, did anyone ever tell you that you look a lot like Josh Holloway?
Kyle: [grumbling] I'm getting a damn haircut tomorrow.
Julie: [smiles] Not if I don't write it into the book, you aren't.

Thank you Julie and Kyle for hanging out with us today!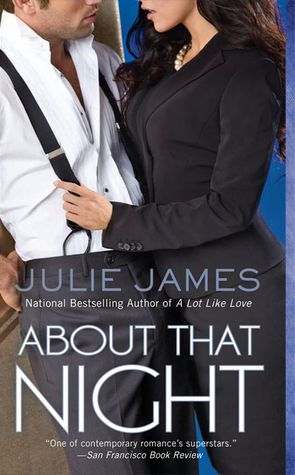 Julie James is graciously giving away a copy of ABOUT THAT NIGHT to one lucky maiden!
To enter, please:
1. Be a follower
2. Fill out the form below

Latest posts by Under the Covers Book Blog
(see all)