ARC Review: Steel's Edge by Ilona Andrews + Giveaway
I received this book for free from Publisher in exchange for an honest review. This does not affect my opinion of the book or the content of my review.

This post contains affiliate links you can use to purchase the book. If you buy the book using that link, I will receive a small commission from the sale.
Steel's Edge

Book Info
Released:
November 27, 2012
Series:
The Edge #4
Pages:
388
"The Andrews have once again written a winner…full of adventure, humour and romance. I couldn't put it down" ~Under the Covers
Charlotte de Ney is not just a healer, but is The Healer and although not a blueblood from birth she has grace and poise that many envy. However, there is a dark side to being a healer, they can as easily start a plague as they can heal one, but to do so is to become an abomination. But once Charlotte tastes the darker side of being a healer, she escapes to the Edge to find peace. That is, until Richard Mar stumbles almost dead on to her doorstep with dangerous enemies in pursuit and a cause that Charlotte can't turn her back on.
It is no big secret that I am a HUGE fan of Ilona and Gordon Andrews and Steel's Edge is a great example of why; full of adventure, humour and romance I couldn't put it down, my eyes became glued to the page, which let me tell you made it extremely awkward to shower, good job I demolished this book in under 24 hours!
For me this was the best in the series and I am glad it is ending on a high note (although, you will see my little rant about this series ending at the end of the review!) The fantastic world of the Edge and the Weird has been built up over the previous three books and has created a perfect setting for Charlotte and Richard to wage their war on slavery as well as develop a romance. Charlotte and Richard were great characters, Charlotte was completely different from the other heroines in this series keeping it fresh and interesting and Richard has intrigued me from when he was first introduced in Bayou Moon.
Charlotte and Richard's journey together puts them through so many emotional highs and lows making a swashbuckling adventure story into something a little more as they try and right wrongs without losing themselves along the way. The mixture of fast paced action, humour and an intelligent storyline kept me turning the pages with relish.
But I am also an avid romance reader so seeing Richard and Charlotte come together so passionately and sweetly after being through so much was also part of the reason I read so greedily. Then there is George and Jack; from the very beginning of this series I have loved them and I am glad that once again they had a fairly big on page presence.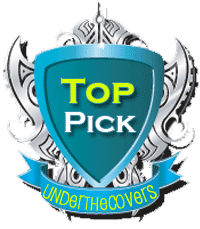 The Andrews have once again written a winner and I am begging them to PLEASE NOT STOP! Or at least write a book for Sophie, George and Jack, we have watched them grow from children to teenagers and I don't think I am alone in wanting to know what they do next. Just a suggestion but I reckon George or Jack (I can never decide which one I like most!) marries a girl called Suzanne, think about it, you'll see it makes sense……
This was a fantastic series, I enjoyed every word and I am sad to see it end so prematurely.
*ARC provided by publisher
Reading Order & Buy Links

Thanks to Ace, we have five (5) copies of STEEL'S EDGE up for grabs.
US only.
Did you like this review? If so, please tell us your thoughts in the comments below!