ARC Review: Autumn Bones by Jacqueline Carey
I received this book for free from Publisher in exchange for an honest review. This does not affect my opinion of the book or the content of my review.

This post contains affiliate links you can use to purchase the book. If you buy the book using that link, I will receive a small commission from the sale.
Autumn Bones

Book Info
Released:
October 1, 2013
Series:
Agent of Hel #2
Pages:
368
Recommended Read!
"I am quickly becoming addicted to anything and everything Daisy related."
~ Under the Covers
AUTUMN BONES is another unexpected ride, full of ups and downs and a lot more twists than I thought I could handle.  I was unprepared by how much I enjoyed this sequel.  I am quickly becoming addicted to anything and everything Daisy related.  She's one of my favorite heroines this past year!
This book is the perfect combination between Daisy's personal life and romantic messes while dealing with supernatural chaos in Pemkowet.  Voodoo, a bit of magic and…a satyr!  AUTUMN BONES doesn't have one page of boring in it!  The storyline will keep you on the edge of your seat with all the action, and at the same time it'll leave you wanting more of it!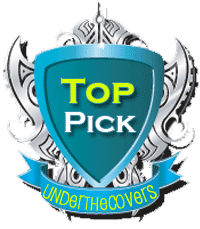 On the romance front… it's complicated!  Very complicated.  And while this book may come across as Daisy being a bit of a ho-bag, I actually didn't feel that because I was right there along with her with her choices!  I can't help but feel like Daisy is my friend, whom I'm very jealous of at times.  I understand her and admire her, even as I want her life!
If you're tired of all the same old, same old urban fantasy out there then you have to read this series!  It's a breath of fresh air for anyone looking for a less gritty urban fantasy.  Jacqueline Carey has me hooked!
What did you think of our review?
Let us know your thoughts in the comment box below!
 ♡ Don't want to miss any of our posts? ♡ 
Follow Under the Covers: Facebook | Twitter | Tsu | GoodReads | Email 
Latest posts by Francesca
(see all)